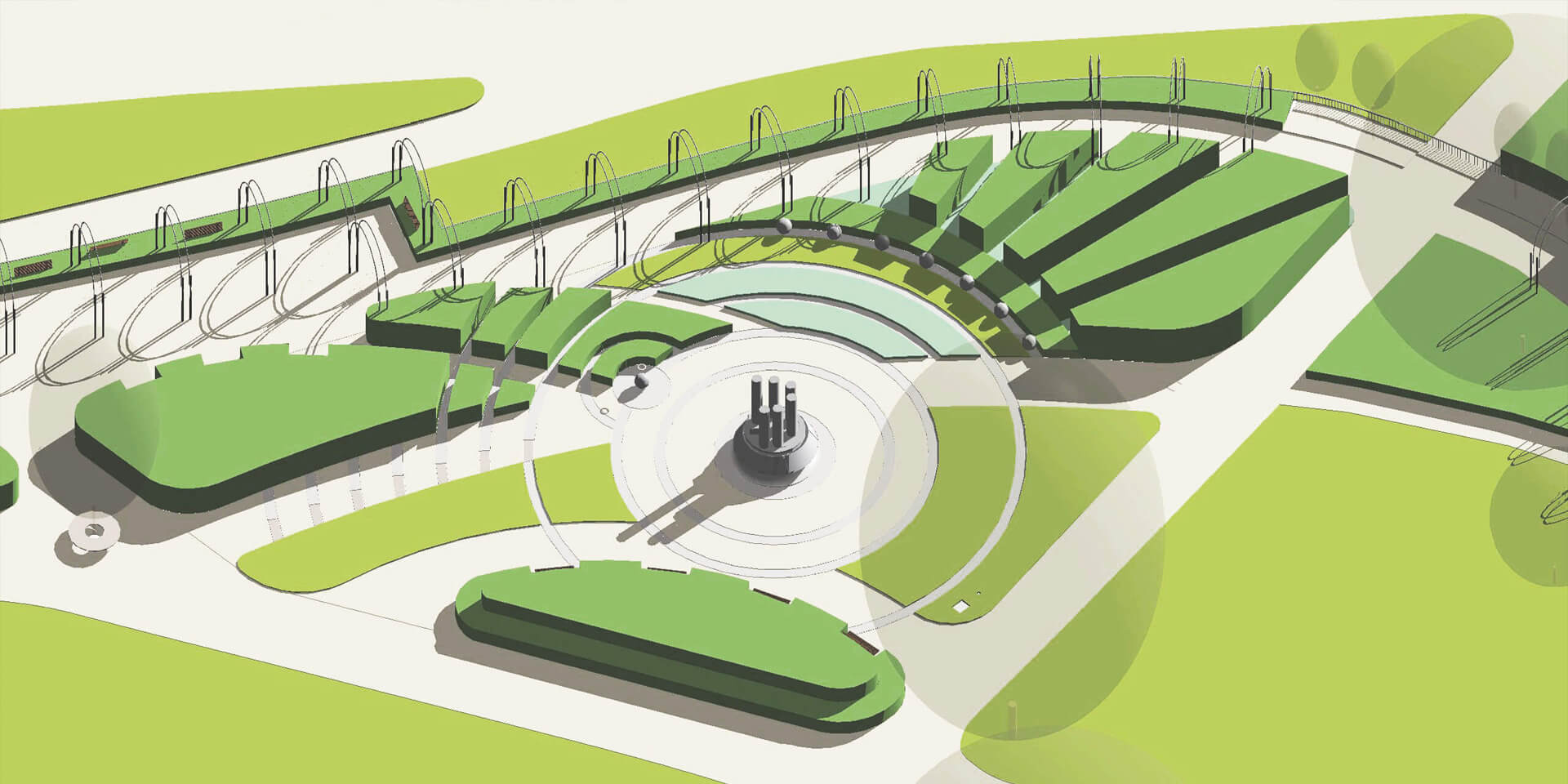 Timothy Associates' design for a memorial garden to remember enslaved Africans and their descendants, on a prominent site in London's Hyde Park, was granted planning permission on 8th November 2016
The proposal was supported unanimously by the City of Westminster. The Councillors stated that the memorial deserved a prominent position. They were …"fully supportive"… it was "fantastic" …. "absolutely brilliant"… and they were …"delighted to support this exceptional design"…
The Client: Memorial 2007 is now actively fund-raising in order to realise this important project. Anyone interested in supporting the project should contact Memorial 2007 : http://www.memorial2007.org.uk/
The statue and memorial garden - on a site in the Rose Gardens of London's Hyde Park -  will be the first national memorial anywhere in the world to commemorate enslaved Africans and their descendants. It will become a place for reflection and education and will form part of the UNESCO World Slave Route Heritage Project linking the key global sites associated with the slave trade.
The site is located within the renowned 'Rose Garden' and the proposal has been carefully designed to blend with and enhance the existing garden, whilst also having its own theme, including some exotic flora appropriate to the setting and the subject. Timothy Associates has worked closely with the Royal Parks in agreeing the planting plans.
The concept for the design is based on the 'Slave Trade Triangle'. It is sub-divided it into three zones representing Europe, Africa and America, with the sculpture located in the central space which represents the Atlantic Ocean. Rings of granite bands radiate out from the sculpture, linking the three continents. The 'coast' of the 'Americas' is marked by a line of granite balls, linked with heavy chain to symbolize the 'Middle Passage', the terrible Atlantic Crossing from Africa to America where so many slaves perished.
The contrast between these three continents is emphasised by the planting, with old fashioned roses and soft pinks and mauves in the European zone:
bright hot colours and bold architectural textures in the Africa zones, and simple blocks of planting representing the sugar and tobacco plantations in the Americas zone. The garden is designed around a new bronze sculpture designed by Les Johnson FRBS, and selected by competition.
A new central paved space will allow for informal gatherings and encourages circulation and contemplation of the sculpture, whilst the three blocks of planting create enclosure. The memorial garden will be informative and will also be a space for quiet contemplation.
The memorial garden is both commemorative and educational, and seven large slate paving slabs inscribed with key dates will be set into the path leading to the central sculpture an inscription on the central statue will read "They will remember that we were sold But they won't remember that we were strong, They will remember that we were bought, But not that we were brave" – WLLIAM PRESCOTT, FORMER SLAVE 1937